An assortment of rich flavored milk tea stewed in a hand pan in a drawstring cloth bag with 5 different flavors of tea bags.
We used plenty of 5g of tea leaves per tea bag so that you can enjoy the rich taste of milk tea.

The assorted type of milk tea tea bags that can be easily enjoyed in a mug and a microwave oven, and the tea bags inside are carefully wrapped one by one, so you can always enjoy a fresh taste.

The fine nylon mesh tea bag keeps tea leaves from spilling while allowing hot water to pass through, making it easy to dispose of used tea leaves. It is also a nice point that there is less washing to clean up after using only a mug cup. You can enjoy a delicious rich milk tea anytime during a busy morning or between work at the office.

*We also sell stand aluminum bags containing 10 tea bags of each brand. This is an affordable price, and you can enjoy plenty of your favorite taste.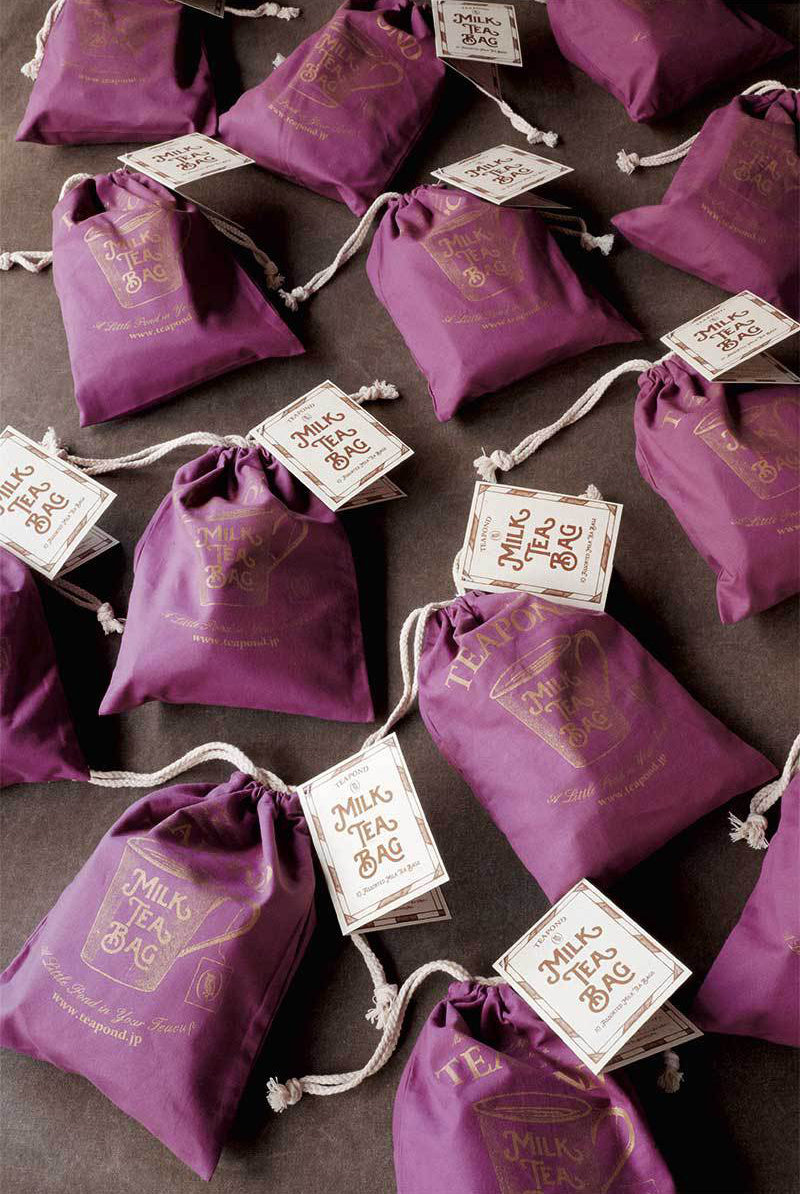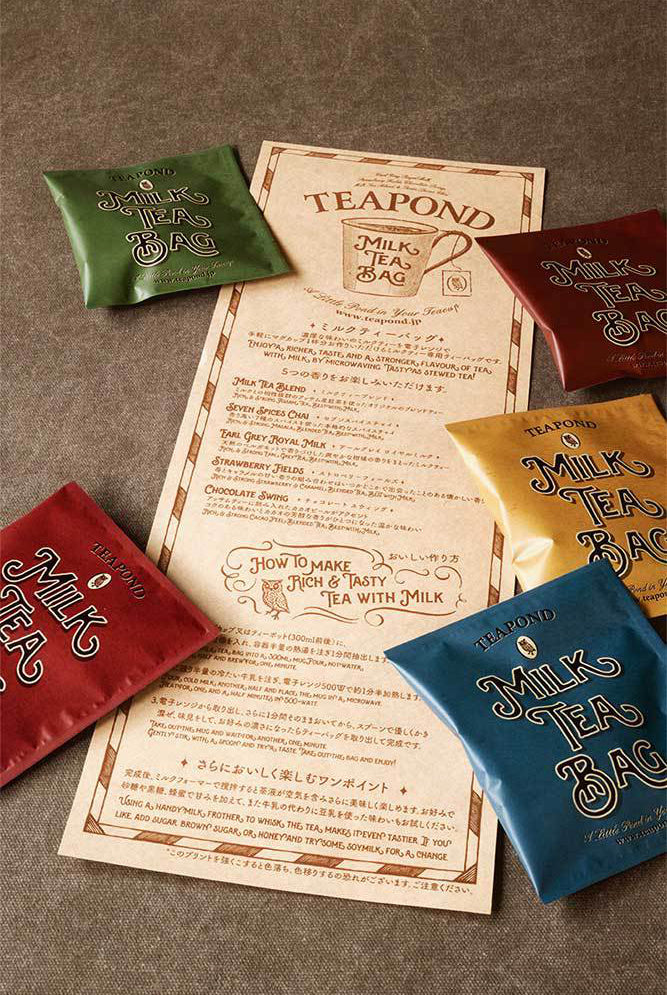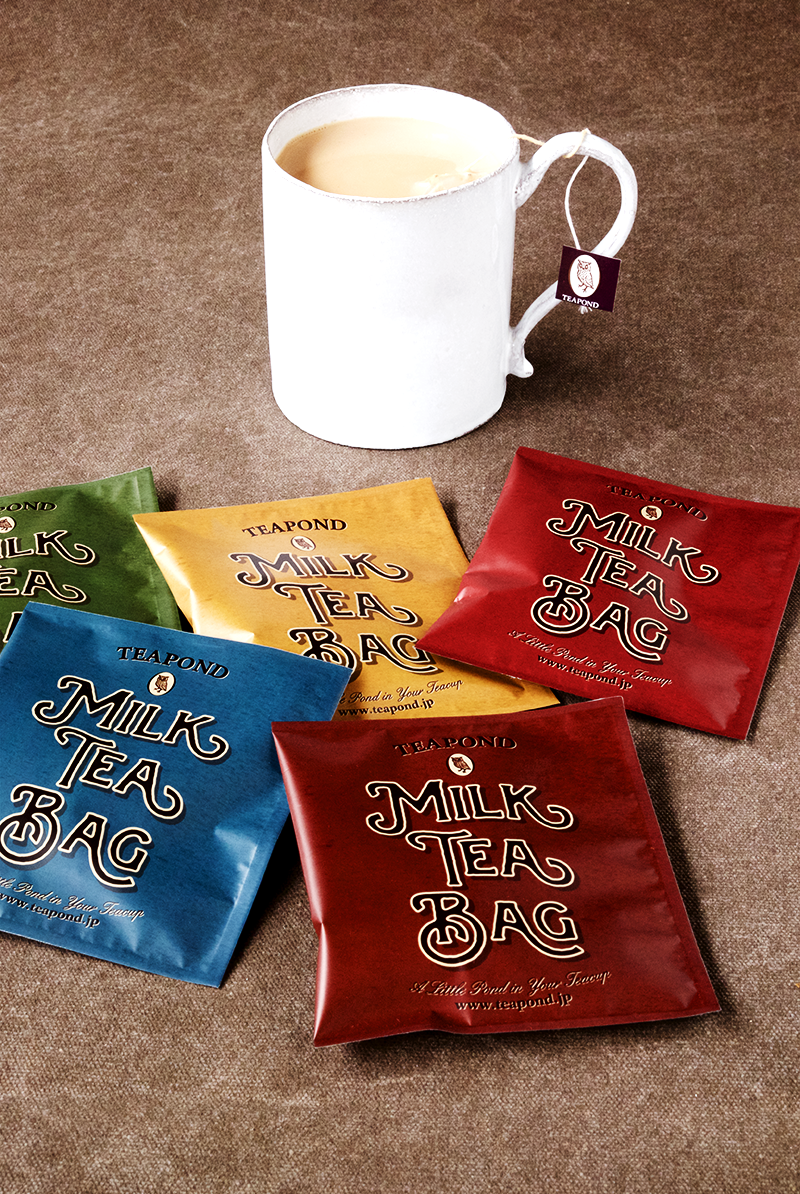 You can enjoy the following 5 unique flavors of milk tea.
(5 types x 2 each, total 10 pieces)
Milk tea blend
It is an original blend tea with an excellent coat of Milk with an abshalam tea. Enjoy a sweet and rich aroma and koku that reminds malt.
Seven Spices Chai
It is a scented spice tea with seven spices. Enjoy a full-fledged spicchable to enjoy with plenty milk.
Earl Gray Royal Milk
A refreshing scented argray that scented with natural Burgamot. Enjoy the milk tea with citrus scent.
Chocolate swing
Cacao Peal, which was chopped in Assam tea, is a chocolate tea for accent. Please enjoy the taste of adults who have become a bittersweet taste of fragrant aromas and tea.
Strawberry Fields
The sweet smell of strawberry and caramel was added to the blend of deep taste assamties and mild taste of Georgia black tea. Enjoy a nostalgic smell that you have met someday someday.
商品情報
[How to make delicious]
1. Place a tea bag in a heat-resistant mug or teapot (around 300ml), pour in half the amount of hot water, and brew for 1 minute.
2. Pour the remaining half of cold milk into 1 and heat in a microwave oven at 500W for about 1.5 minutes.
3. Take it out of the microwave and leave it for another minute, mix gently with a spoon, taste it, and when it reaches your desired strength, remove the tea bag and you're done.

♦ One point to enjoy even more deliciously ♦
After completion, if you stir it with a milk foamer, the tea liquid will contain air and you can enjoy it even more deliciously. You can add sweetness with sugar, brown sugar, or honey if you like, and try using soy milk instead of milk.
商品サイズ
・ Assortment with Hotei: Height 22 cm Width 17 cm Depth 9 cm *Sizes are outside dimensions. In addition, there is an error of several millimeters.
発売日
2023年09月16日
本品に含まれるアレルゲン
[Strawberry Fields] milk