Exotic flavor rooibos tea sticking to the material
Various spices sold in a bazaar, trees loaded with fruits in an oasis, scattered flower petals in a banquet held all through a night. This flavoured rooibos tea is made based on these exotic images of a collection of famous Arabian folktales, 'One Thousand and One Nights'. With non-caffeine and low tannin, rooibos tea is popular among health-conscious people including pregnant women, mothers and small children. Enjoy!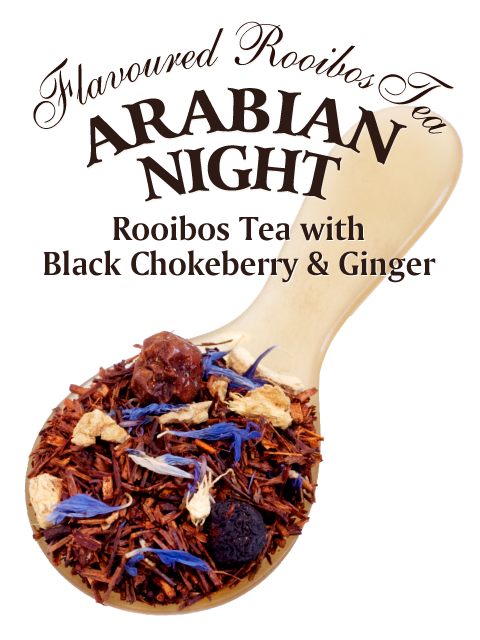 原材料名:
Rooibos tea, ginger, aronia berry, red currant, strawberry, cornflower / fragrance
原産国名:
Republic of South Africa
保存方法:
Store away from high temperature and humidity and direct sunlight. After opening, put in an airtight container and consume as soon as possible.
栄養成分表示:
(Per 2.5g of tea leaves) Energy: 8.8kacl, protein: 0.14g, fat: 0.03g, carbohydrates: 1.98g, salt equivalent: 0.0125g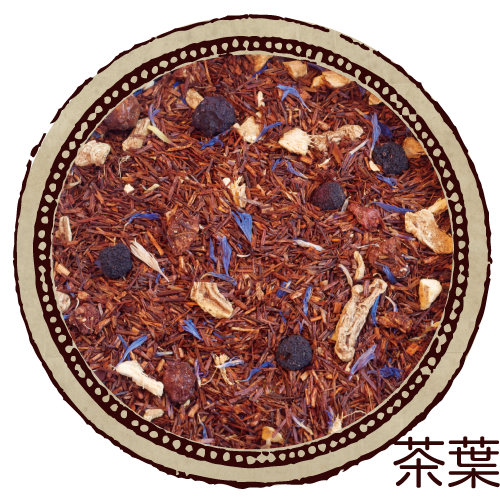 おすすめの飲み方
茶葉の量
2.5g
(1 medium teaspoon)
Rooibos tea has been established as a tea in our lives. We often hear from customers that they use simple rooibos tea with the original taste of the ingredients and flavored rooibos that is perfect for a change of mood. The new scented flavored tea is a blend with a slightly exotic scent theme. The sweet scent of berries and the warm spiciness of ginger. A caffeine-free tea that can be enjoyed by everyone in the family, from children to adults. Please enjoy it at night.